We all lead a very hectic life stuck in work and do not get time for our loved ones. If you are also planning a short vacation then it is a great idea to go and visit Shimla. A trip to the lush green valley will rejuvenate your senses and refresh your soul. Shimla is a hill station in Himachal Pradesh and is approximately 342 kms away from Delhi.
Book the best cabs from travelvore and get full value for money. We at travelvore offer best travelling experience with professional and trained drivers who will make you enjoy world class travelling. Not only this but the cabs provided by our agency are well maintained and in a perfect condition to offer the traveler with 100% comfort.
If you're in Delhi and you're dreaming about the Shimla Tour Package with your family during your holidays, we'll be nice and pleasant to provide you with the best Traveler on Rent in Delhi. We have many different types of tourist vehicles from nine seats, twelve seats, sixteen seats, twenty seats for a quick or wide group trip.
Places to visit in Shimla
Kufri: Though visiting this cooler, higher and less crowded cousin in Shimla, Kufri is only 13 km from the main city. The sights and sceneries here are only getting better, and the landscapes are more appealing, with the tourist rush a little unchanged.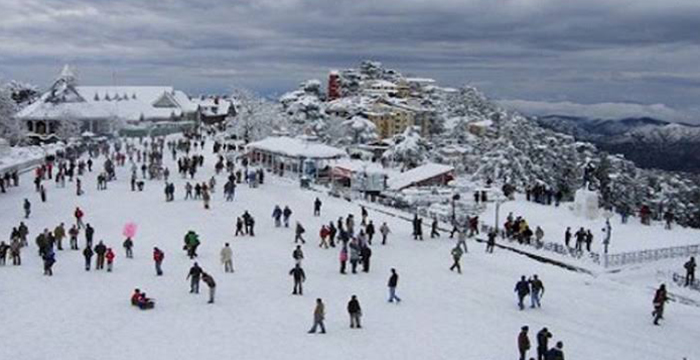 Chail: this is the most beautiful village in Shimla where you can witness some mesmerizing landscapes. The sunrays when lighten up the snow clad mountains give you a moment to cherish for your lifetime.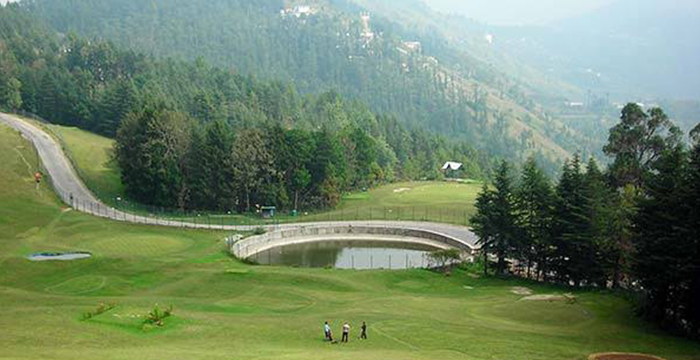 Kalka Shimla toy train: An fun train ride through a lot of Kalka and Shimla, and a little bit of what the British left behind, though here it's a must do. This route is one of the world's most picturesque train routes and it runs through more than a hundred tunnels.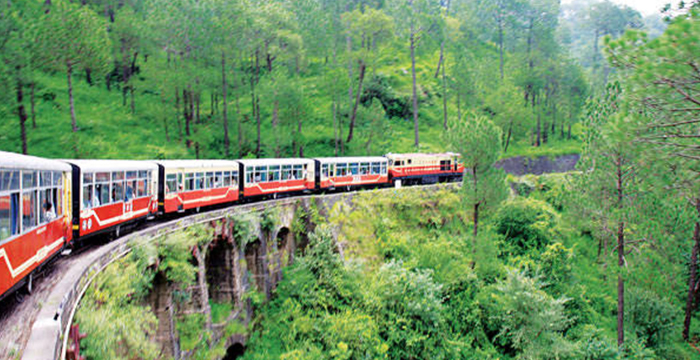 Famous market in Shimla
Mall road: how can you control the shopaholic inside you? Bring back some beautiful memories along by shopping stuff from local vendors in Mall road. Do not forget to bargain a good deal else you might land up paying much more than the expected price.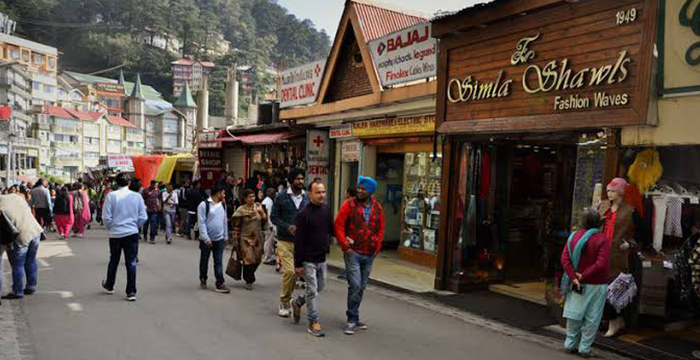 Famous food in Shimla
Chha gosht: The most famous food that you can enjoy in Shimla is Chhha gosht. This mouth watering gosht is enjoyed with hot khameeri roti.
Madra: it is a dish made with chick peas and is served with a blend of various veggies. It is prepared with a combination of different seasonings such as cloves, cinnamon, cardamoms, cumin, coriander powder and turmeric powder.
Best time to visit Shimla
March-June: Summers are cool and great for trekking, fishing and rafting in Shimla. The temperature differs from 15 to 30 degrees and during the night hours you would need light woolens.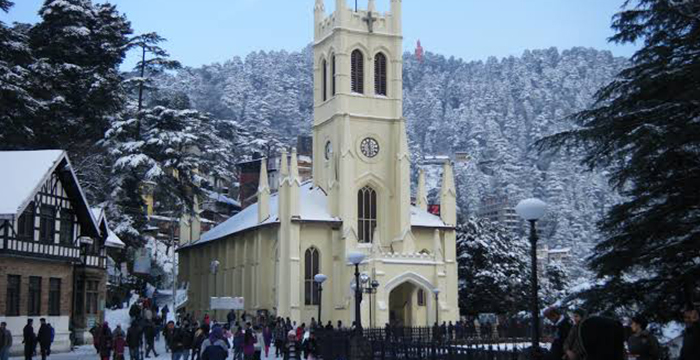 October-February: winters in Shimla are chilly and are enjoyed by the tourists for the snowfall. The temperature varies between 2 to 8 degrees and the time is best to enjoy ice skating.
Shimla needs no introduction and is loved by the tourists because of its greenery, beautiful landscapes and mesmerizing sightseeing views. If you are also planning a trip to the place then hurry up and book your packages soon.
Shimla is an amazing destination in Himachal Pradesh, it's one of the best destinations in Himachal Pradesh and a lot of travelers visit every year from all over India. We are specialized in luxury taxis and provide safe, neat & clean taxis at a very reasonable price. Economical and Luxury tempo-travellers on Rent from Delhi to Shimla.
Delhi to Shimla tempo-travellers rental price
Delhi to Shimla tempo-travellers on Rent as on 23-09-23: Please find below the available cabs from Delhi to Shimla, select the best taxi option for you for your travel.
| Car | Price/Km | Car Type | Min km/per day | Route | Min Cost/day | Max Passenger |
| --- | --- | --- | --- | --- | --- | --- |
| 9 Seater Tempo Traveller Hire Gurgaon | 18 | Tempo Traveller | 250 | Delhi to Shimla | 4,500 | 9 |
| 12 Seater Tempo Traveller in Gurgaon | 22 | Tempo Traveller | 250 | Delhi to Shimla | 5,500 | 12 |
| 14 Seater Tempo Traveller in Gurgaon | 23 | Tempo Traveller | 250 | Delhi to Shimla | 5,750 | 14 |
| 16 Seater Tempo Traveller in Gurgaon | 23 | Tempo Traveller | 250 | Delhi to Shimla | 5,750 | 16 |
| 20 Seater Tempo Traveller in Gurgaon | 25 | Tempo Traveller | 250 | Delhi to Shimla | 6,250 | 20 |
| 26 Seater Tempo Traveller in Gurgaon | 30 | Tempo Traveller | 250 | Delhi to Shimla | 7,500 | 25 |
Cab from Delhi to Shimla price
We have our own fleet of luxury cabs, we provide luxury cabs from Delhi to Shimla during all seasons.
For best & safe cabs for Shimla, please call us now on 9811046889 or book online.
We offer Best price for cabs for travelling to Shimla, and provides best cab services in Delhi.
Hire now the best cab for your travel from Delhi to Shimla at best price.
Fascinating Things You Should Know About Shimla
Shimla is one of the most famous city in the states of Himachal Pradesh. As per provisional reports of Census India, population of Shimla in 2011 was 170000. Average literacy rate in Shimla as per census 2011 is 82.80%. It has an average altitude of 2276 meters. Shimla has a sex ratio of 915 females for every 1000 males.
The best places to visit in Shimla are The Ridge of Shimla, Kufri, Green Valley, Jakhoo Hill, Chail, Kiala Forest, Mall Road, Shimla State Museum, Christ Church, Kali Bari Temple, Himalayan Bird Park, Viceregal Lodge, Kuthar Fort, Summer Hill, Ride on Toy Train Chadwick Waterfall.
More About Shimla (Himachal Pradesh)
Himachal Pradesh is one of the best tourist places in India. Shimla is the capital of Himachal Pradesh and the largest city of Himachal Pradesh is Shimla. Himachal Pradesh was established on 25-Jan-71. It is covering an area of 55673 square kilometers. The total population of Himachal Pradesh is 74 Lakhs as per the reports of Census India 2011. The sex ratio of Himachal Pradesh is 972 females per 1000 males with the average literacy rate of 83%. The Chief Minister of Himachal Pradesh is Jairam Thakur. And Rajendra Vishwanath Arlekar is serving the state as the Governor.
Himachal Pradesh is among the tourist places with lots of temples & historical places. The best time to visit in Himachal Pradesh is through February to June. During this time, the average temperature ranges between 0 - 34 C.
In the state of Himachal Pradesh, the delicious foods you must try are Chana Madra, Dhaam, Tudkiya Bhath, Bhey, Chha Gosht, Siddu, Babru, Aktori, Kullu Trout, Tibetan Thukpa, Mittha, Kaale Channe ka Khatta.
Things You Sholud Know About Shimla (Himachal Pradesh)
| | | |
| --- | --- | --- |
| 1. | Place To Visit In Shimla | The Ridge of Shimla, Kufri, Green Valley, Jakhoo Hill, Chail, Kiala Forest, Mall Road, Shimla State Museum, Christ Church, Kali Bari Temple, Himalayan Bird Park, Viceregal Lodge, Kuthar Fort, Summer Hill, Ride on Toy Train Chadwick Waterfall |
| 2. | Shimla Population | 170000 |
| 3. | Shimla Sex Ratio | 915 Females Per 1000 Males |
| 4. | Shimla Literacy Rate | 82.80% |
| 5. | Elevation | 2276 meters. |
| 6. | State Name | Himachal Pradesh |
| 7. | Himachal Pradesh Capital | Shimla |
| 8. | Total Area of Himachal Pradesh | 55673 SQ. KM. |
| 9. | Official Language of Himachal Pradesh | hindi |
| 10. | Total Population of Himachal Pradesh | 74 Lakhs (According to the census of 2011) |
| 11. | Current Chief Minister of Himachal Pradesh | Jairam Thakur |
| 12. | Current Governor of Himachal Pradesh | Rajendra Vishwanath Arlekar |
| 13. | Sex Ratio of Himachal Pradesh | 972 females per 1000 males |
| 14. | State Code | HP |
| 15. | Largest City in Himachal Pradesh | Shimla |
| 16. | Famous Foods of Himachal Pradesh | Chana Madra, Dhaam, Tudkiya Bhath, Bhey, Chha Gosht, Siddu, Babru, Aktori, Kullu Trout, Tibetan Thukpa, Mittha, Kaale Channe ka Khatta |
| 17. | Best Time To Visit in Himachal Pradesh | February to June |
| 18. | Temperature During February to June | 0 - 34 C |