With holiday season around the corner we help you out with all your holidaying needs. Being stationed in Gurugram we are perfect for your golden triangle Delhi Agra Jaipur trip. Other than helping out with the transportation lodging and activities to groups and individuals, we advise on destinations and plan itineraries.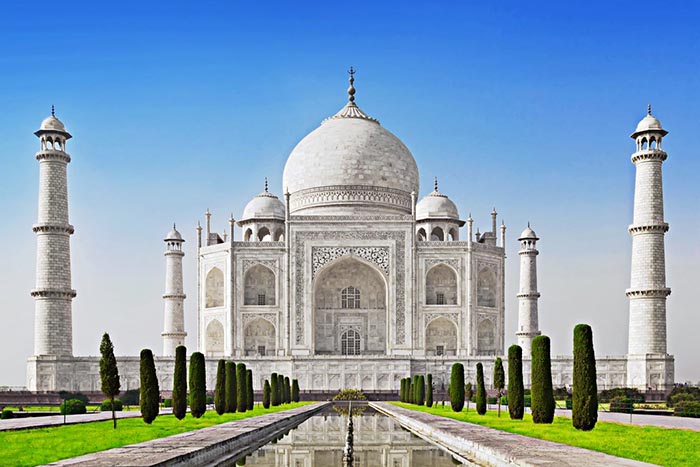 We hold a large fleet of cars for smaller groups and tempo travellers for a group of around 15 to 18 people. Our tempo travellers are well equipped with all the first aid support for elderly and ailing and the staff speaks a minimum of 3 languages as per requirement. The trip to Agra can also accommodate a stop at Vrindavan at a minimum cost you can witness a plethora of heritage culture, religion and spiritualism.
We leave at around 6 in the morning for a same day return and around 8 if you want to stay overnight which is most preferred by our guests as the taj looks truely inexplicable at the dawn and dusk.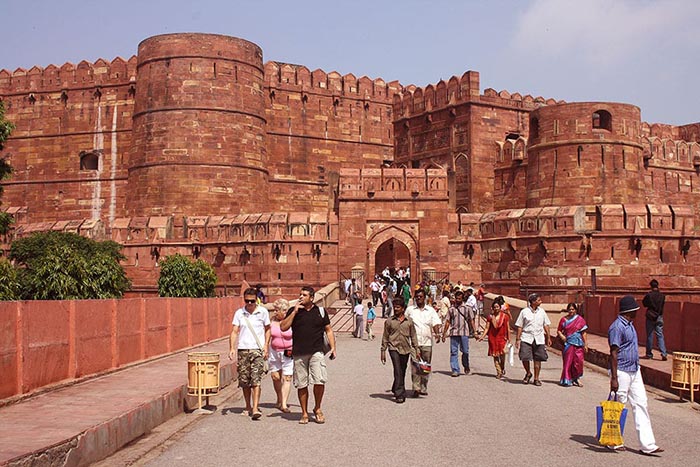 The trip in Agra would be majorly visit to its many Mughal era buildings like TAJ MAHAL, AGRA FORT AND FATEHPUR SIKRI. If by any chance you visit Agra in February you can witness the TAJ MAHOTSAV a cultural festival celebrating the grandeur of Taj with a large craft fair from the local artisan.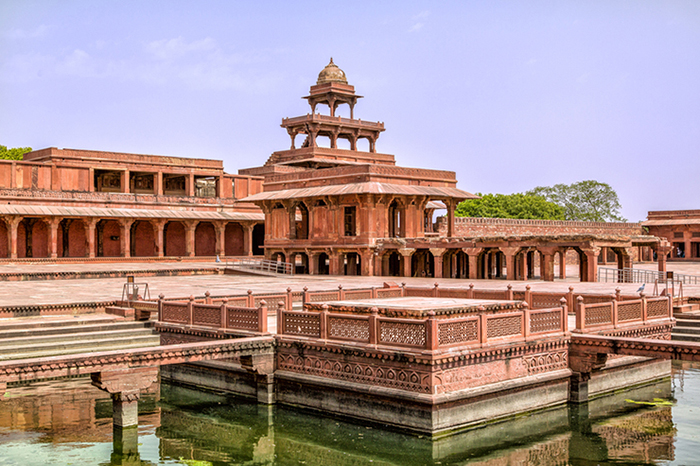 Then we take you to Agra fort also known as there fort another of Agra's world heritage sites it was built earlier and renovated later by Akbar. The fort and other buildings in Agra are excellent examples of traditional marble and pietra dura inlays. You witness a paradise in the interiors of the fort which is surrounded by a moat. Lunch would be served now and if you want a period of half an hour resting and freshening up can be provided as then we proceed to Fatehpur Sikri another world heritage site once the capital fo Akbar who moved back to Agra fort due to shortage of water.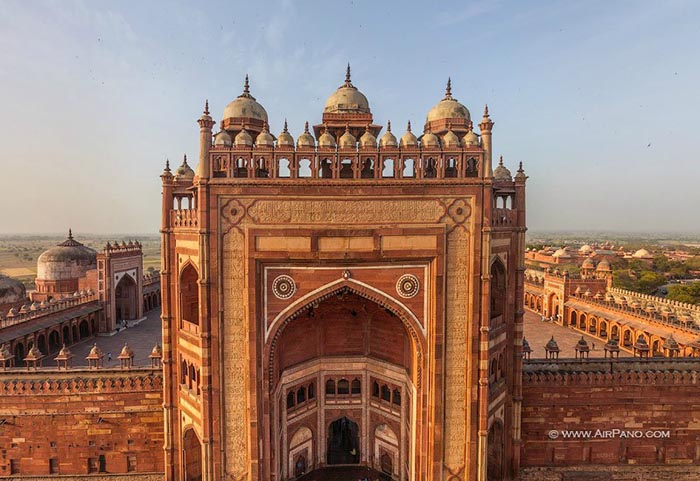 The entry to this mini town is called BULAND DARWAZA or the lofty gateway. You climb a stairway of 52 steps to this grand structure. It also has a message from Jesus showing oneness of Akbar's faith inscribed here. We would make sure that your visit to this culturally rich city is most comfortable and fun. we aim to create happy travelers.
Agra is an amazing destination in Uttar Pradesh, it's one of the best destinations in Uttar Pradesh and a lot of travelers visit every year from all over India. We are specialized in luxury taxis and provide safe, neat & clean taxis at a very reasonable price. Economical and Luxury tempo-travellers on Rent from Delhi to Agra.
Delhi to Agra tempo-travellers rental price
Delhi to Agra tempo-travellers on Rent as on 23-09-23: Please find below the available cabs from Delhi to Agra, select the best taxi option for you for your travel.
| Car | Price/Km | Car Type | Min km/per day | Route | Min Cost/day | Max Passenger |
| --- | --- | --- | --- | --- | --- | --- |
| 9 Seater Tempo Traveller Hire Gurgaon | 18 | Tempo Traveller | 250 | Delhi to Agra | 4,500 | 9 |
| 12 Seater Tempo Traveller in Gurgaon | 22 | Tempo Traveller | 250 | Delhi to Agra | 5,500 | 12 |
| 14 Seater Tempo Traveller in Gurgaon | 23 | Tempo Traveller | 250 | Delhi to Agra | 5,750 | 14 |
| 16 Seater Tempo Traveller in Gurgaon | 23 | Tempo Traveller | 250 | Delhi to Agra | 5,750 | 16 |
| 20 Seater Tempo Traveller in Gurgaon | 25 | Tempo Traveller | 250 | Delhi to Agra | 6,250 | 20 |
| 26 Seater Tempo Traveller in Gurgaon | 30 | Tempo Traveller | 250 | Delhi to Agra | 7,500 | 25 |
Cab from Delhi to Agra price
We have our own fleet of luxury cabs, we provide luxury cabs from Delhi to Agra during all seasons.
For best & safe cabs for Agra, please call us now on 9811046889 or book online.
We offer Best price for cabs for travelling to Agra, and provides best cab services in Delhi.
Hire now the best cab for your travel from Delhi to Agra at best price.
Fascinating Things You Should Know About Agra
Agra is one of the most famous city in the states of Uttar Pradesh. As per provisional reports of Census India, population of Agra in 2011 was 2261561. Average literacy rate in Agra as per census 2011 is 67.68%. It has an average altitude of 170 meters. Agra has a sex ratio of 868 females for every 1000 males.
The best places to visit in Agra are Taj Mahal, Agra Fort, Jama Masjid, Fatehpur Sikri, Itmad-Ud-Daulah's Tomb, Akbar's Tomb, Moti Masjid, Sikandra Fort, Jodha Bai.
More About Agra (Uttar Pradesh)
Uttar Pradesh is one of the best tourist places in India. Lucknow is the capital of Uttar Pradesh and the largest city of Uttar Pradesh is Kanpur. Uttar Pradesh was established on 26-Jan-50. It is covering an area of 243286 square kilometers. The total population of Uttar Pradesh is 23 Crores as per the reports of Census India 2011. The sex ratio of Uttar Pradesh is 912 females per 1000 males with the average literacy rate of 68%. The Chief Minister of Uttar Pradesh is Yogi Aditya Nath. And Anandiben Patel is serving the state as the Governor.
Uttar Pradesh is among the tourist places with lots of temples & historical places. The best time to visit in Uttar Pradesh is through October to March. During this time, the average temperature ranges between 9 - 23 C.
In the state of Uttar Pradesh, the delicious foods you must try are Petha, Dalmoth, Bedhai & Jalebi, Kachori Sabzi, Choora Matar, Dahi chutney Gol Gappe, Baati Chokha, Tamatar Chaat, Cheena Dahi Vada, Malaiyyo and Thandai, Metha Paan, Rabri Jalebi, Mutton Rogan Josh, Lucknowi Biryani, Rabri, Lassi, Nihari Kulche, Khasta Kachori, Sheermal and Lucknowi Paan .
Things You Sholud Know About Agra (Uttar Pradesh)
| | | |
| --- | --- | --- |
| 1. | Place To Visit In Agra | Taj Mahal, Agra Fort, Jama Masjid, Fatehpur Sikri, Itmad-Ud-Daulah's Tomb, Akbar's Tomb, Moti Masjid, Sikandra Fort, Jodha Bai |
| 2. | Agra Population | 2261561 |
| 3. | Agra Sex Ratio | 868 Females Per 1000 Males |
| 4. | Agra Literacy Rate | 67.68% |
| 5. | Elevation | 170 meters. |
| 6. | State Name | Uttar Pradesh |
| 7. | Uttar Pradesh Capital | Lucknow |
| 8. | Total Area of Uttar Pradesh | 243286 SQ. KM. |
| 9. | Official Language of Uttar Pradesh | hindi |
| 10. | Total Population of Uttar Pradesh | 23 Crores (According to the census of 2011) |
| 11. | Current Chief Minister of Uttar Pradesh | Yogi Aditya Nath |
| 12. | Current Governor of Uttar Pradesh | Anandiben Patel |
| 13. | Sex Ratio of Uttar Pradesh | 912 females per 1000 males |
| 14. | State Code | UP |
| 15. | Largest City in Uttar Pradesh | Kanpur |
| 16. | Famous Foods of Uttar Pradesh | Petha, Dalmoth, Bedhai & Jalebi, Kachori Sabzi, Choora Matar, Dahi chutney Gol Gappe, Baati Chokha, Tamatar Chaat, Cheena Dahi Vada, Malaiyyo and Thandai, Metha Paan, Rabri Jalebi, Mutton Rogan Josh, Lucknowi Biryani, Rabri, Lassi, Nihari Kulche, Khasta Kachori, Sheermal and Lucknowi Paan |
| 17. | Best Time To Visit in Uttar Pradesh | October to March |
| 18. | Temperature During October to March | 9 - 23 C |