Planning a trip to God's land then you must book travelers from travelvore and grab the best deals. we offer exclusive packages with a wide variety of cabs with which you can enjoy your trip. Affordable prices, premium comfort and professional drivers these are some of the features that you might love to cherish on from our services. We have Mathura Vrindavan City Same Day and Overnight Tour Package with Ac and Non Ac Luxury Tempo Traveler from Delhi.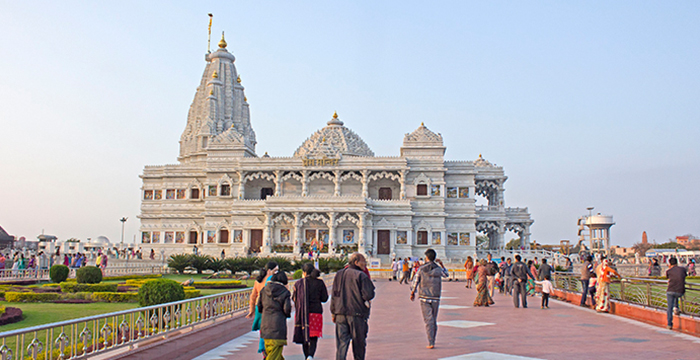 A trip to Mathura- vrindavan covers an entire round of the God's land. One can visit a wide number of beautiful temples and can witness the positive aura that ius spread all across the city. Take a quick break from your hectic schedule and book a traveler with travelvore and enjoy a trip to the city.
Places covered in Mathura :
Lord krishna Birthplace, Dwarkadhish Temple, Birla Temple, Mathura Museum, Yamuna Ghat's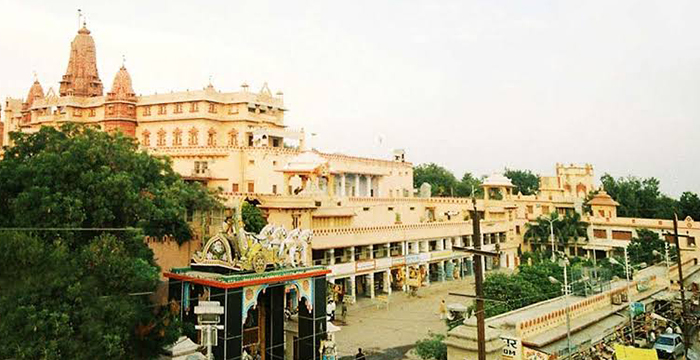 Places to visit in Vrindavan :
Bankey Bihari Temple, Iskcon Temple, Radha Ballabh Temple, Prem Mandir, Nidhi Van, Kesi Ghata and Yamuna River etc.

Must see places in Gokul :
Childhood living place of lord Krishna Near Mathura
Top tourist points to see in Nand Gayon :
Village of lord krishna relatives

Places to visat in Goverdhan Parwat :
Goverdhan Mountain and Parikrma, Radha Kund, Kusam Sarowar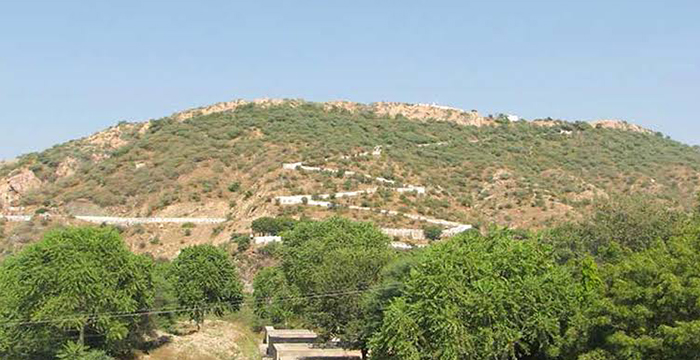 Most loved places in Barsana :
Birthplace of Radha Rani and Temples
Best shopping joints covered in Mathura- vrindavan trip
Tilak Dwar Market
Chatta Bazaar
Lal Bazaar
Highway Plaza
Krishna Nagar Market
Brijwasi Mithaiwala
Radhika Sweets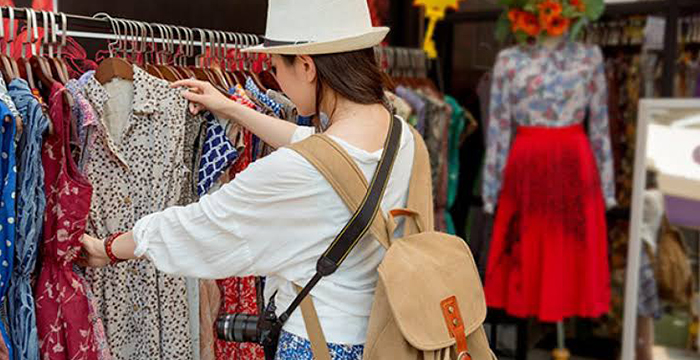 Delicacies that one must enjoy in Mathura
The city's cuisine stands out for its sweets and milk products. Pede, a type of condensed milk sweet dish, is a specialty here. Kachori, Jalebi, Chaat, Panipuri, Samosa, Dhokla, Aloo tikki and Lassi must be tried other than these. Typical North Indian platters can also be considered tasty.
Best time to visit Mathura- Vrindavan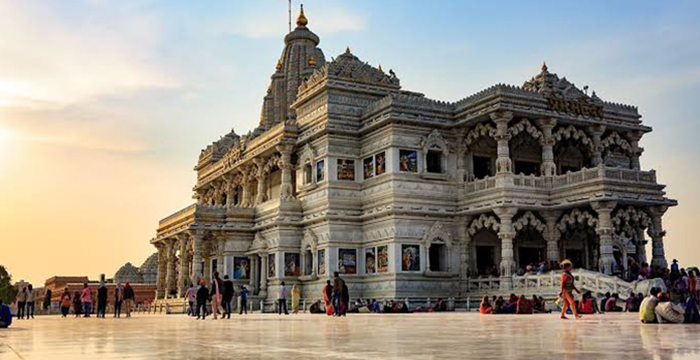 The best time to visit Mathura is October to March as the weather during these months is good. Holi is, nevertheless, a wonderful time to visit Mathura and appreciate the unique customs and traditions of Barsana, a Mathura town. Janmashtmi, marking the birthday of Krishna is another important occasion that is very unique to Mathura's history.
Mathura is an amazing destination in Uttar Pradesh, it's one of the best destinations in Uttar Pradesh and a lot of travelers visit every year from all over India. We are specialized in luxury taxis and provide safe, neat & clean taxis at a very reasonable price. Economical and Luxury tempo-travellers on Rent from Delhi to Mathura.
Delhi to Mathura tempo-travellers rental price
Delhi to Mathura tempo-travellers on Rent as on 04-12-23: Please find below the available cabs from Delhi to Mathura, select the best taxi option for you for your travel.
| Car | Price/Km | Car Type | Min km/per day | Route | Min Cost/day | Max Passenger |
| --- | --- | --- | --- | --- | --- | --- |
| 9 Seater Tempo Traveller Hire Gurgaon | 18 | Tempo Traveller | 250 | Delhi to Mathura | 4,500 | 9 |
| 12 Seater Tempo Traveller in Gurgaon | 22 | Tempo Traveller | 250 | Delhi to Mathura | 5,500 | 12 |
| 14 Seater Tempo Traveller in Gurgaon | 23 | Tempo Traveller | 250 | Delhi to Mathura | 5,750 | 14 |
| 16 Seater Tempo Traveller in Gurgaon | 23 | Tempo Traveller | 250 | Delhi to Mathura | 5,750 | 16 |
| 20 Seater Tempo Traveller in Gurgaon | 25 | Tempo Traveller | 250 | Delhi to Mathura | 6,250 | 20 |
| 26 Seater Tempo Traveller in Gurgaon | 30 | Tempo Traveller | 250 | Delhi to Mathura | 7,500 | 25 |
Cab from Delhi to Mathura price
We have our own fleet of luxury cabs, we provide luxury cabs from Delhi to Mathura during all seasons.
For best & safe cabs for Mathura, please call us now on 9811046889 or book online.
We offer Best price for cabs for travelling to Mathura, and provides best cab services in Delhi.
Hire now the best cab for your travel from Delhi to Mathura at best price.
Fascinating Things You Should Know About Mathura
Mathura is one of the most famous city in the states of Uttar Pradesh. As per provisional reports of Census India, population of Mathura in 2011 was 441894. Average literacy rate in Mathura as per census 2011 is 67.68%. It has an average altitude of 174 meters. Mathura has a sex ratio of 864 females for every 1000 males.
The best places to visit in Mathura are Krishna Janma Bhoomi Mandir, Jama Masjid, Dwarkadhish Temple, Kusum Sarovar, Radha Kund, Kans Qila .
More About Mathura (Uttar Pradesh)
Uttar Pradesh is one of the best tourist places in India. Lucknow is the capital of Uttar Pradesh and the largest city of Uttar Pradesh is Kanpur. Uttar Pradesh was established on 26-Jan-50. It is covering an area of 243286 square kilometers. The total population of Uttar Pradesh is 23 Crores as per the reports of Census India 2011. The sex ratio of Uttar Pradesh is 912 females per 1000 males with the average literacy rate of 68%. The Chief Minister of Uttar Pradesh is Yogi Aditya Nath. And Anandiben Patel is serving the state as the Governor.
Uttar Pradesh is among the tourist places with lots of temples & historical places. The best time to visit in Uttar Pradesh is through October to March. During this time, the average temperature ranges between 9 - 23 C.
In the state of Uttar Pradesh, the delicious foods you must try are Petha, Dalmoth, Bedhai & Jalebi, Kachori Sabzi, Choora Matar, Dahi chutney Gol Gappe, Baati Chokha, Tamatar Chaat, Cheena Dahi Vada, Malaiyyo and Thandai, Metha Paan, Rabri Jalebi, Mutton Rogan Josh, Lucknowi Biryani, Rabri, Lassi, Nihari Kulche, Khasta Kachori, Sheermal and Lucknowi Paan .
Things You Sholud Know About Mathura (Uttar Pradesh)
| | | |
| --- | --- | --- |
| 1. | Place To Visit In Mathura | Krishna Janma Bhoomi Mandir, Jama Masjid, Dwarkadhish Temple, Kusum Sarovar, Radha Kund, Kans Qila |
| 2. | Mathura Population | 441894 |
| 3. | Mathura Sex Ratio | 864 Females Per 1000 Males |
| 4. | Mathura Literacy Rate | 67.68% |
| 5. | Elevation | 174 meters. |
| 6. | State Name | Uttar Pradesh |
| 7. | Uttar Pradesh Capital | Lucknow |
| 8. | Total Area of Uttar Pradesh | 243286 SQ. KM. |
| 9. | Official Language of Uttar Pradesh | hindi |
| 10. | Total Population of Uttar Pradesh | 23 Crores (According to the census of 2011) |
| 11. | Current Chief Minister of Uttar Pradesh | Yogi Aditya Nath |
| 12. | Current Governor of Uttar Pradesh | Anandiben Patel |
| 13. | Sex Ratio of Uttar Pradesh | 912 females per 1000 males |
| 14. | State Code | UP |
| 15. | Largest City in Uttar Pradesh | Kanpur |
| 16. | Famous Foods of Uttar Pradesh | Petha, Dalmoth, Bedhai & Jalebi, Kachori Sabzi, Choora Matar, Dahi chutney Gol Gappe, Baati Chokha, Tamatar Chaat, Cheena Dahi Vada, Malaiyyo and Thandai, Metha Paan, Rabri Jalebi, Mutton Rogan Josh, Lucknowi Biryani, Rabri, Lassi, Nihari Kulche, Khasta Kachori, Sheermal and Lucknowi Paan |
| 17. | Best Time To Visit in Uttar Pradesh | October to March |
| 18. | Temperature During October to March | 9 - 23 C |