Dehradun is the capital of the Indian state of Uttarakhand, noted for its natural resources. Situated at the foot of the Himalayas in the Doon Valley, Dehradun is bordered by India's Ganges and Yamuna Rivers.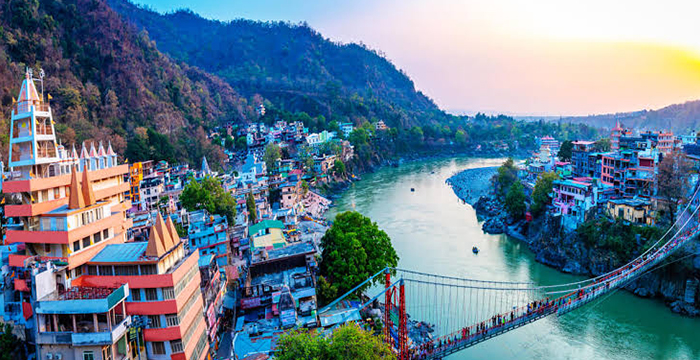 The city is known for its friendly nature, offering a gateway to famous hill stations such as Nainital, Mussoorie etc. and pilgrimage sites such as Haridwar and Rishikesh. During the monsoon season, the region experiences heavy amounts of rain and becomes very cold during the winter. The local customs of the Garhwali community were part of the Prince Garhwal Region.
Book your traveler today with travelore and hit towards Dehradun to enjoy your festive season. get cabs at affordable prices with well trained drivers from the store.
Places to visit in Dehradun
Sahastradhara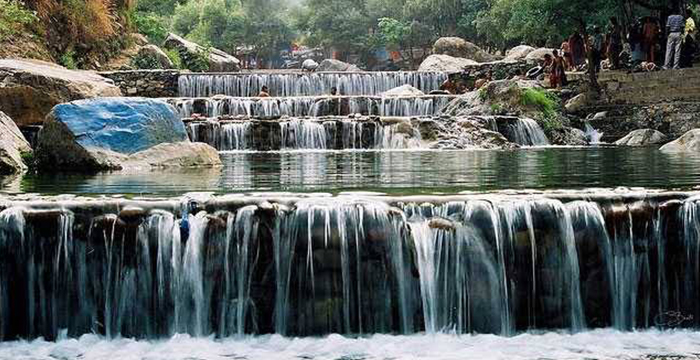 The name Sahastradhara literally means 'The Thousand Fold Spring' is a popular tourist destination in Dehradun. It comprised of waterfalls, caves and steppe farming lands and provides a totally marvelous and rejuvenating experience to its visitors. The name is due to the water that drips from the limestone stalactites in the caves and its waterfalls.
Tiger falls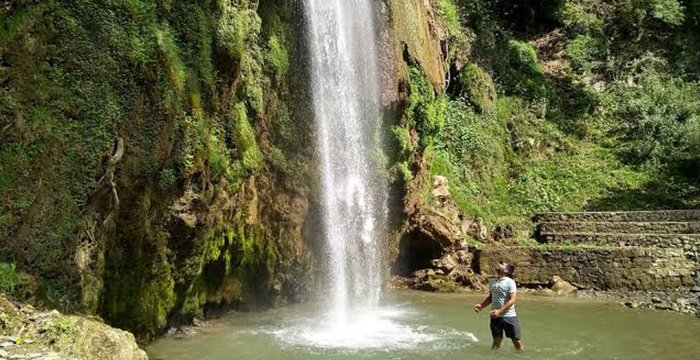 The Tiger Falls are located at a height of 1400 meters above sea level and are 50 meters high. The waterfalls are found on the foothills of the Himalayas in a picturesque landscape with dense forests. The water converges into a small pond that provides a perfect atmosphere for a family and friends trip. It is known to be the largest direct waterfall in India at an elevation of 312 ft.
Robber's cave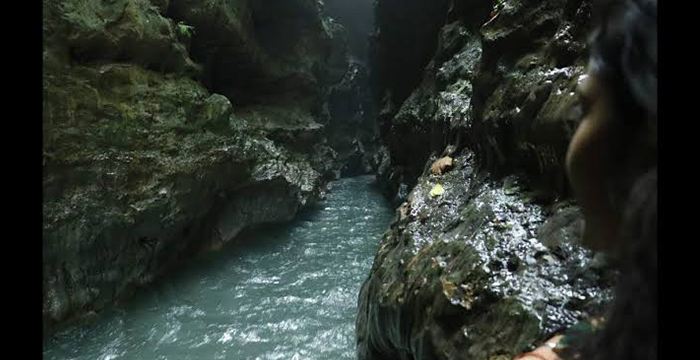 The river cave which is 600 meters long, is recognised by local people as Gucchupani. The cave is split into two main parts, the maximum fall of which is 10 meters long. The place is known as the disappearing stream for its unique natural phenomenon. It was thought that the robbers used the place to hide during the British Raj because of its name.
Food one must have in Dehradun
Momos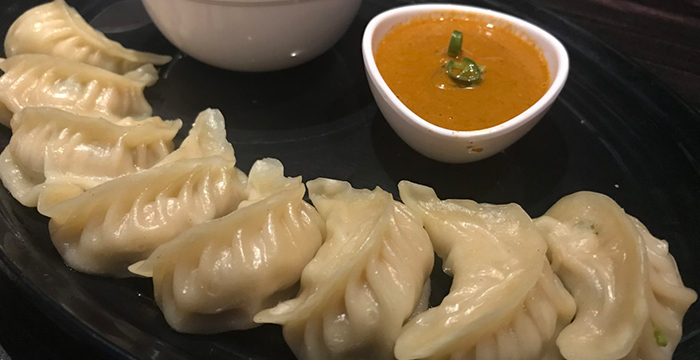 Dehradun is a great place to have steamed and fried momos (dumplings), which are always common. Serve with a hot chili sauce and filled with carrots, broccoli, chicken or any other filling, momos are at maximum easy food and are enjoyed by many like snacks
Soup
Because of the chilly weather people here love to relish on hot soups ranging from chicken soup to tomato soup.
Dosa
It might sound a bit unusual but people of Dehradun love to eat dosas with extra flavors added to relish their taste buds.
Places to go shopping in Dehradun
Paltan bazaar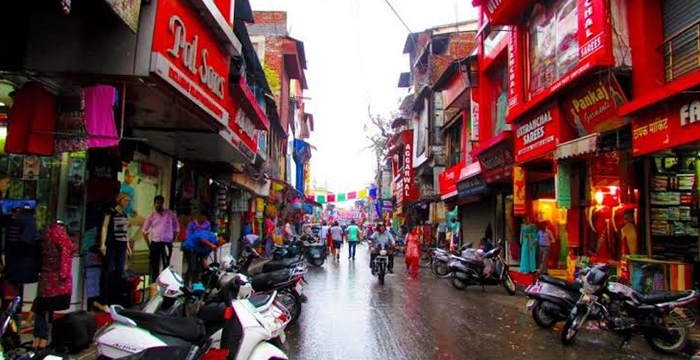 Paltan Bazaar, one of the city's most affordable locations, is renowned for Basmati rice, which is also one of Dehradun's most common things to buy. Stroll through the small, cluttered streets of the Paltan market in Dehradun at night and you'll be able to get your hands on reasonably priced clothing, never-seen-before antiques, second-hand books and handicrafts from Pahari.
Ghanta ghar market
Shopping in Dehradun without heading to Rajpur Road is incomplete. Situated right next to Clock Tower this market is the heart of the city. Here you will find a lot of sponsored showrooms from Nike, Adidas, Levi's, etc. as well as small sellers offering exclusive craft items and other commercial goods.
Dehradun is an amazing destination in Uttarakhand, it's one of the best destinations in Uttarakhand and a lot of travelers visit every year from all over India. We are specialized in luxury taxis and provide safe, neat & clean taxis at a very reasonable price. Economical and Luxury tempo-travellers on Rent from Delhi to Dehradun.
Delhi to Dehradun tempo-travellers rental price
Delhi to Dehradun tempo-travellers on Rent as on 04-12-23: Please find below the available cabs from Delhi to Dehradun, select the best taxi option for you for your travel.
| Car | Price/Km | Car Type | Min km/per day | Route | Min Cost/day | Max Passenger |
| --- | --- | --- | --- | --- | --- | --- |
| 9 Seater Tempo Traveller Hire Gurgaon | 18 | Tempo Traveller | 250 | Delhi to Dehradun | 4,500 | 9 |
| 12 Seater Tempo Traveller in Gurgaon | 22 | Tempo Traveller | 250 | Delhi to Dehradun | 5,500 | 12 |
| 14 Seater Tempo Traveller in Gurgaon | 23 | Tempo Traveller | 250 | Delhi to Dehradun | 5,750 | 14 |
| 16 Seater Tempo Traveller in Gurgaon | 23 | Tempo Traveller | 250 | Delhi to Dehradun | 5,750 | 16 |
| 20 Seater Tempo Traveller in Gurgaon | 25 | Tempo Traveller | 250 | Delhi to Dehradun | 6,250 | 20 |
| 26 Seater Tempo Traveller in Gurgaon | 30 | Tempo Traveller | 250 | Delhi to Dehradun | 7,500 | 25 |
Cab from Delhi to Dehradun price
We have our own fleet of luxury cabs, we provide luxury cabs from Delhi to Dehradun during all seasons.
For best & safe cabs for Dehradun, please call us now on 9811046889 or book online.
We offer Best price for cabs for travelling to Dehradun, and provides best cab services in Delhi.
Hire now the best cab for your travel from Delhi to Dehradun at best price.
Fascinating Things You Should Know About Dehradun
Dehradun is one of the most famous city in the states of Uttarakhand. As per provisional reports of Census India, population of Dehradun in 2011 was 943136. Average literacy rate in Dehradun as per census 2011 is 78.82%. It has an average altitude of 430 meters. Dehradun has a sex ratio of 902 females for every 1000 males.
The best places to visit in Dehradun are Robbers Cave, Tapkeshwar Temple, Chopta-Tungnath, Deer Park, Doon Valley, Tibetan Market, Rajaji National Park, Kalsi.
More About Dehradun (Uttarakhand)
Uttarakhand is one of the best tourist places in India. Dehradun is the capital of Uttarakhand and the largest city of Uttarakhand is Dehradun. Uttarakhand was established on 09-Nov-00. It is covering an area of 53483 square kilometers. The total population of Uttarakhand is 1.14 Crores as per the reports of Census India 2011. The sex ratio of Uttarakhand is 963 females per 1000 males with the average literacy rate of 79%. The Chief Minister of Uttarakhand is Pushkar Singh Dhami. And Lt. Gen. Gurmit Singh is serving the state as the Governor.
Uttarakhand is among the tourist places with lots of temples & historical places. The best time to visit in Uttarakhand is through March-June. During this time, the average temperature ranges between 20 - 35 C.
In the state of Uttarakhand, the delicious foods you must try are Jhangora ki Kheer, Til ki Chutney, Aalo Tamatar ka Jhol, Bhatt ki Churdkani, Bhaang ki Chutney and Chainsoo..
Things You Sholud Know About Dehradun (Uttarakhand)
| | | |
| --- | --- | --- |
| 1. | Place To Visit In Dehradun | Robbers Cave, Tapkeshwar Temple, Chopta-Tungnath, Deer Park, Doon Valley, Tibetan Market, Rajaji National Park, Kalsi |
| 2. | Dehradun Population | 943136 |
| 3. | Dehradun Sex Ratio | 902 Females Per 1000 Males |
| 4. | Dehradun Literacy Rate | 78.82% |
| 5. | Elevation | 430 meters. |
| 6. | State Name | Uttarakhand |
| 7. | Uttarakhand Capital | Dehradun |
| 8. | Total Area of Uttarakhand | 53483 SQ. KM. |
| 9. | Official Language of Uttarakhand | hindi |
| 10. | Total Population of Uttarakhand | 1.14 Crores (According to the census of 2011) |
| 11. | Current Chief Minister of Uttarakhand | Pushkar Singh Dhami |
| 12. | Current Governor of Uttarakhand | Lt. Gen. Gurmit Singh |
| 13. | Sex Ratio of Uttarakhand | 963 females per 1000 males |
| 14. | State Code | UT |
| 15. | Largest City in Uttarakhand | Dehradun |
| 16. | Famous Foods of Uttarakhand | Jhangora ki Kheer, Til ki Chutney, Aalo Tamatar ka Jhol, Bhatt ki Churdkani, Bhaang ki Chutney and Chainsoo. |
| 17. | Best Time To Visit in Uttarakhand | March-June |
| 18. | Temperature During March-June | 20 - 35 C |