Rishikesh is one of the young Indian population's most popular tourist hotspots. Quiet charm, architectural marvels, wonderful temples and an endless list of adventure sports — Rishikesh is a platter of two opposing dimensions.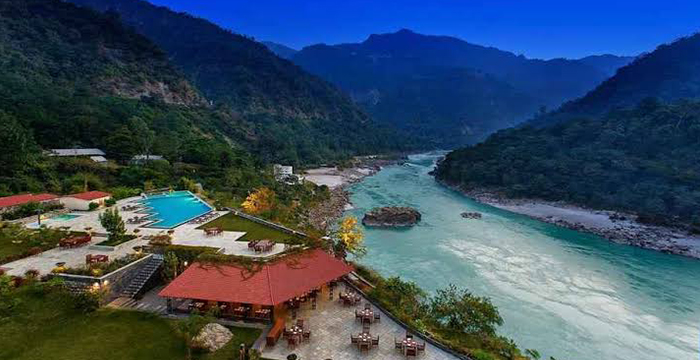 Whether it's a rejuvenating yoga session, an overcrowded and beautiful Ganga aarti, or an exciting river rafting, this town has something for everyone.
If you are planning a visit to the place then quickly book a traveler with travelvore. The store offers cabs for all sizes. Get exciting discounts and deals during the festive season too and enjoy your trip.
Places to visit in Rishikesh
River rafting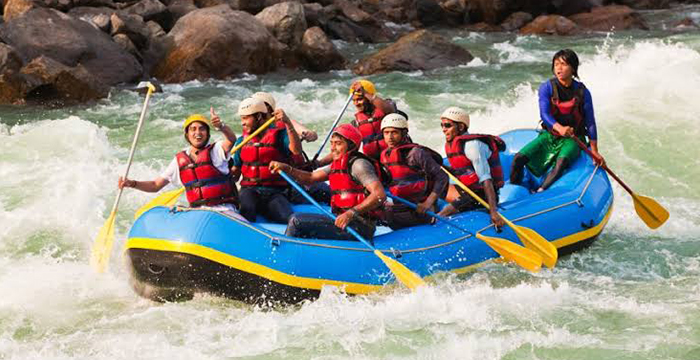 Blend in the environment of the majestic Ganga adorned with your fellow rafters ' spirit and strength. Night sleep on the beach and enjoy your favorite drink and consume your favorite beach treats, wander the woods if you like. Then wake up to beautiful then relaxing sights in the morning as you get ready for the well-spirited and really spectacular rafting activity.
Lakshman jhula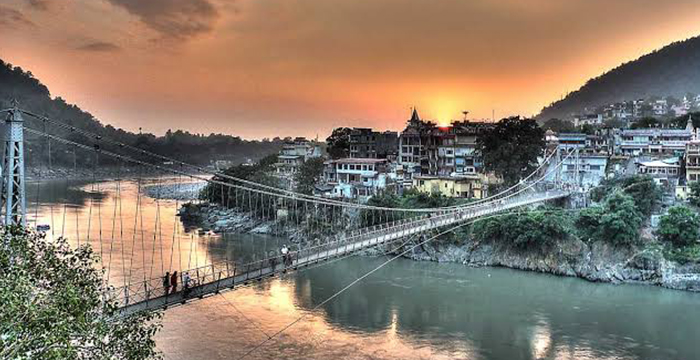 The Lakshman Jhula is a popular hanging bridge across the Ganga River linking two towns, Tapovan in Tehri Garhwal and Jonk in Pauri Garhwal District. Constructed in the Indian state of Uttarakhand, 5 kilometers north-east of the town of Rishikesh, the whole bridge is made of iron, 450 feet long and 70 feet high from the water.
Triveni ghat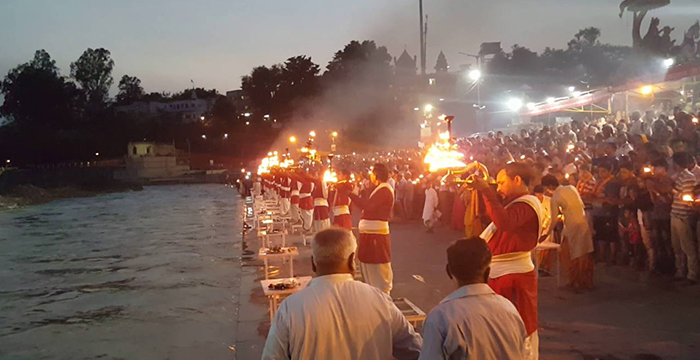 Triveni Ghat is a confluence of India's three main holy rivers, the Ganges, the Yamuna, and the Saraswathi. It is one of Rishikesh's most famous holiest swimming sites on the shores of the river Ganges. Among the locals, it is a religious assumption that all those taking a dip in Triveni Ghat will have a break from all the sins carried out in their lifteime, as the water here has the capacity to purify them.
Flying fox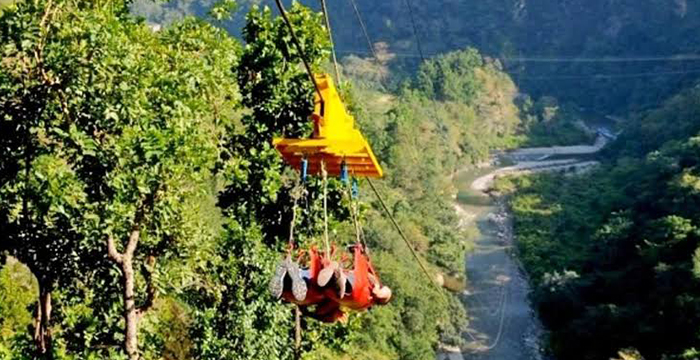 Flying Fox is another one of Rishikesh's thrilling adventure sports and fun top things to do. You are harnessed to a string in this activity and sent' driving' simply on a chain. The movement through the equipment is increased or slowed down. You can get a spectacular view of the mighty Himalayas and climb up the magnificent Ganges with a beautiful view in front of you and even under you.
Food to enjoy in Rishikesh
Samosa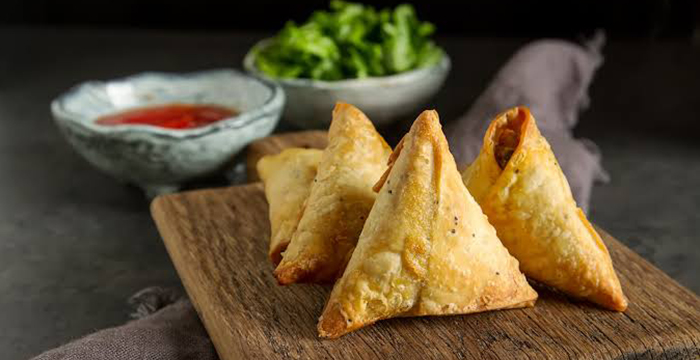 Samosa is a deep-fried snack filled with a savory topping of potatoes. For many citizens throughout Rishikesh, Samosa is the traditional meal. The best combination of the meal is a fresh cup of coffee or tea.
Aloo poori
Aloo Poori is a popular country-wide breakfast and Rishikesh is no different. It consists of potatoes served along with a deep fried bread called a poori in a savory gravy. Rishikesh is well-known for serving the aloo poori.
Places to shop in Rishikesh
Lakshaman jhula market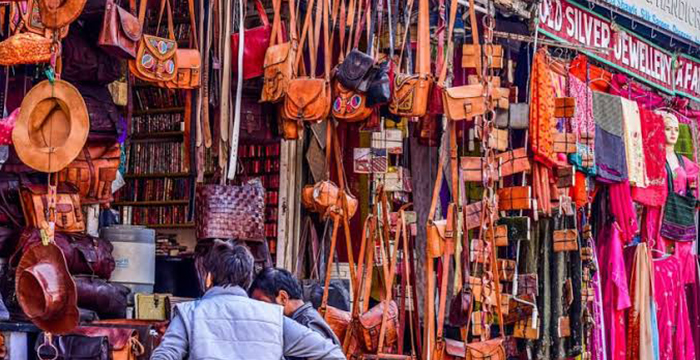 It is one of the best places to shop for handicrafts and quick buys in Rishikesh but do not forget to bargain else you might get looted by the local vendors.
Triveni ghat market
The local flee market at triveni ghat offers a wide range of products that the tourists love to shop for when in Rishikesh.
Rishikesh is an amazing destination in Uttarakhand, it's one of the best destinations in Uttarakhand and a lot of travelers visit every year from all over India. We are specialized in luxury taxis and provide safe, neat & clean taxis at a very reasonable price. Economical and Luxury tempo-travellers on Rent from Delhi to Rishikesh.
Delhi to Rishikesh tempo-travellers rental price
Delhi to Rishikesh tempo-travellers on Rent as on 23-09-23: Please find below the available cabs from Delhi to Rishikesh, select the best taxi option for you for your travel.
| Car | Price/Km | Car Type | Min km/per day | Route | Min Cost/day | Max Passenger |
| --- | --- | --- | --- | --- | --- | --- |
| 9 Seater Tempo Traveller Hire Gurgaon | 18 | Tempo Traveller | 250 | Delhi to Rishikesh | 4,500 | 9 |
| 12 Seater Tempo Traveller in Gurgaon | 22 | Tempo Traveller | 250 | Delhi to Rishikesh | 5,500 | 12 |
| 14 Seater Tempo Traveller in Gurgaon | 23 | Tempo Traveller | 250 | Delhi to Rishikesh | 5,750 | 14 |
| 16 Seater Tempo Traveller in Gurgaon | 23 | Tempo Traveller | 250 | Delhi to Rishikesh | 5,750 | 16 |
| 20 Seater Tempo Traveller in Gurgaon | 25 | Tempo Traveller | 250 | Delhi to Rishikesh | 6,250 | 20 |
| 26 Seater Tempo Traveller in Gurgaon | 30 | Tempo Traveller | 250 | Delhi to Rishikesh | 7,500 | 25 |
Cab from Delhi to Rishikesh price
We have our own fleet of luxury cabs, we provide luxury cabs from Delhi to Rishikesh during all seasons.
For best & safe cabs for Rishikesh, please call us now on 9811046889 or book online.
We offer Best price for cabs for travelling to Rishikesh, and provides best cab services in Delhi.
Hire now the best cab for your travel from Delhi to Rishikesh at best price.
Fascinating Things You Should Know About Rishikesh
Rishikesh is one of the most famous city in the states of Uttarakhand. As per provisional reports of Census India, population of Rishikesh in 2011 was 102469. Average literacy rate in Rishikesh as per census 2011 is 78.82%. It has an average altitude of 340 meters. Rishikesh has a sex ratio of 903 females for every 1000 males.
The best places to visit in Rishikesh are Lakshman Jhula, Ram Jhula, Parmarth Niketan Ashram, Triveni Ghat, Beatles Ashram, Gita Bhavan, Neelkanth Mahadev Temple, Shivpuri, Neer Garh Waterfall, Swarga Ashram.
More About Rishikesh (Uttarakhand)
Uttarakhand is one of the best tourist places in India. Dehradun is the capital of Uttarakhand and the largest city of Uttarakhand is Dehradun. Uttarakhand was established on 09-Nov-00. It is covering an area of 53483 square kilometers. The total population of Uttarakhand is 1.14 Crores as per the reports of Census India 2011. The sex ratio of Uttarakhand is 963 females per 1000 males with the average literacy rate of 79%. The Chief Minister of Uttarakhand is Pushkar Singh Dhami. And Lt. Gen. Gurmit Singh is serving the state as the Governor.
Uttarakhand is among the tourist places with lots of temples & historical places. The best time to visit in Uttarakhand is through March-June. During this time, the average temperature ranges between 20 - 35 C.
In the state of Uttarakhand, the delicious foods you must try are Jhangora ki Kheer, Til ki Chutney, Aalo Tamatar ka Jhol, Bhatt ki Churdkani, Bhaang ki Chutney and Chainsoo..
Things You Sholud Know About Rishikesh (Uttarakhand)
| | | |
| --- | --- | --- |
| 1. | Place To Visit In Rishikesh | Lakshman Jhula, Ram Jhula, Parmarth Niketan Ashram, Triveni Ghat, Beatles Ashram, Gita Bhavan, Neelkanth Mahadev Temple, Shivpuri, Neer Garh Waterfall, Swarga Ashram |
| 2. | Rishikesh Population | 102469 |
| 3. | Rishikesh Sex Ratio | 903 Females Per 1000 Males |
| 4. | Rishikesh Literacy Rate | 78.82% |
| 5. | Elevation | 340 meters. |
| 6. | State Name | Uttarakhand |
| 7. | Uttarakhand Capital | Dehradun |
| 8. | Total Area of Uttarakhand | 53483 SQ. KM. |
| 9. | Official Language of Uttarakhand | hindi |
| 10. | Total Population of Uttarakhand | 1.14 Crores (According to the census of 2011) |
| 11. | Current Chief Minister of Uttarakhand | Pushkar Singh Dhami |
| 12. | Current Governor of Uttarakhand | Lt. Gen. Gurmit Singh |
| 13. | Sex Ratio of Uttarakhand | 963 females per 1000 males |
| 14. | State Code | UT |
| 15. | Largest City in Uttarakhand | Dehradun |
| 16. | Famous Foods of Uttarakhand | Jhangora ki Kheer, Til ki Chutney, Aalo Tamatar ka Jhol, Bhatt ki Churdkani, Bhaang ki Chutney and Chainsoo. |
| 17. | Best Time To Visit in Uttarakhand | March-June |
| 18. | Temperature During March-June | 20 - 35 C |