Mussoorie is a hill station in the northern Indian state of Uttarakhand's Dehradun District. It is located approximately 35 km from Dehradun State Capital and 287 km north from New Delhi National Capital. This hill station is also known as the Queen of the Mountains, set in the foothills of the Garhwal Himalayan ranges. Landour's adjacent town, which includes a military cantonment, is considered part of' grand Mussoorie,' as are Barlowganj and Jharipani townships.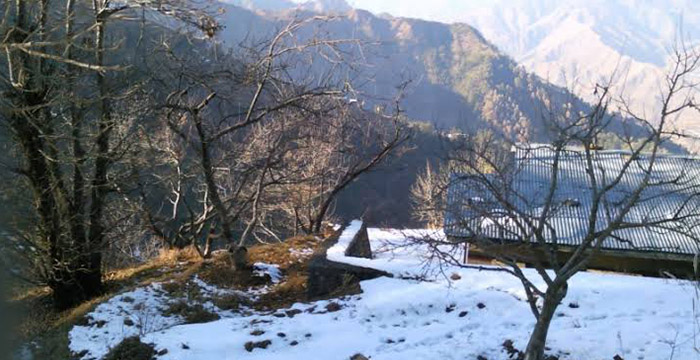 Plan a trip to Mussoorie with travelvore and get exclusive deals and discounts. not only this but travelvore also provides well trained and professional drivers who will guide you in your tour and will give full value for money. Travelvore keeps customer satisfaction as their priority and loves to get back feedbacks for any improvement. Book cabs according to your preference varying from small size groups to complete family trips.
Major tourists attractions in Mussoorie
Mussoorie is one of the most preferred places by the tourists and is loved by the trekkers who come here to enjoy camping and adventure sports. Best places to visit in Mussoorie are:
Dhanaulti: a wide spread forest that has some beautiful trees and a small park in between. The place has been a major attractions in bollywood movies too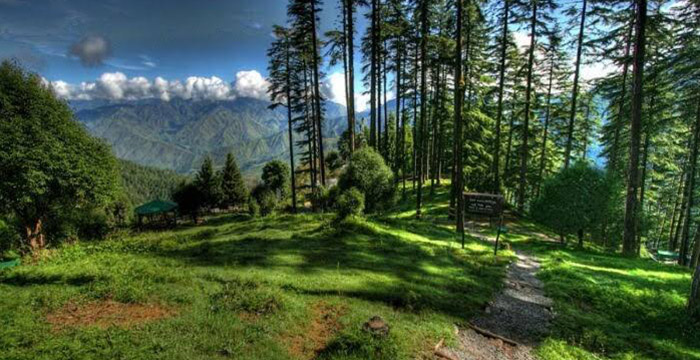 Jwala Devi Temple: one of the most preferred religious places the temple offers a mesmerizing view of the snow clad Himalayas from the top.
Kempty Falls: a must visit place when you are in Mussoorie as the falls also have a lot of small shops from where you can enjoy lip smacking Maggie and get some amazing clicks done.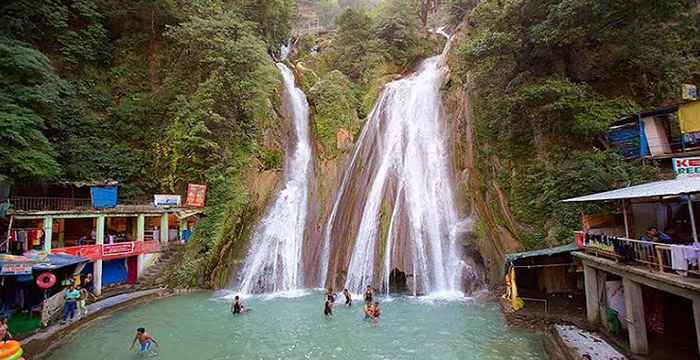 Things one must enjoy in Mussoorie
White water rafting: take your boats and dive into the waters and enjoy river rafting with your gang as the rivers roars all under you.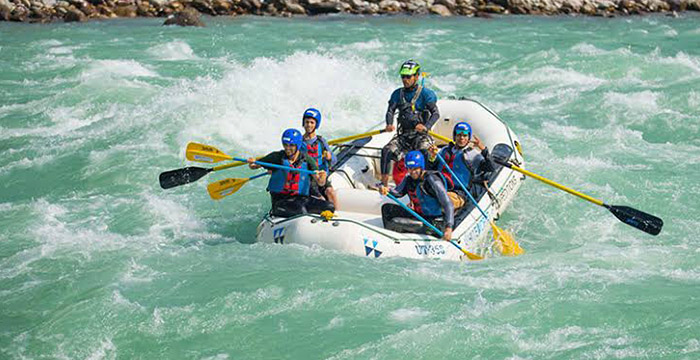 Mountain climbing: the best thing one can enjoy in the town is mountain climbing. Get your ropes and start your adventure and do not forget to take a guide along to help you out
Winemaking: also in old Mussoorie you can enjoy doing wine making in the grape yards.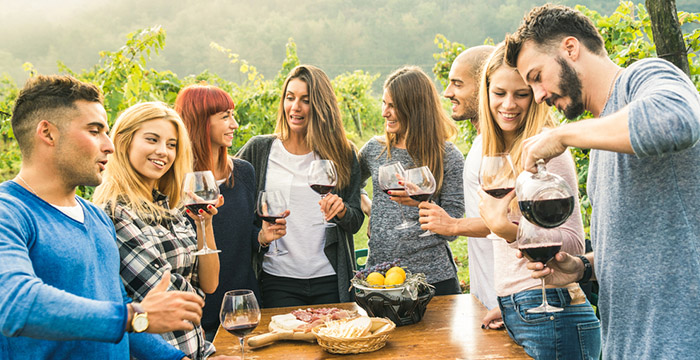 Food of Mussoorie:
Though Mussoorie does not have any special cuisine of its own still you must try these delicacies here:
Pahado waali Maggie: the lip smacking Maggie that can be found everywhere is a must try as the place is too cold and hot Maggie just becomes your best companion.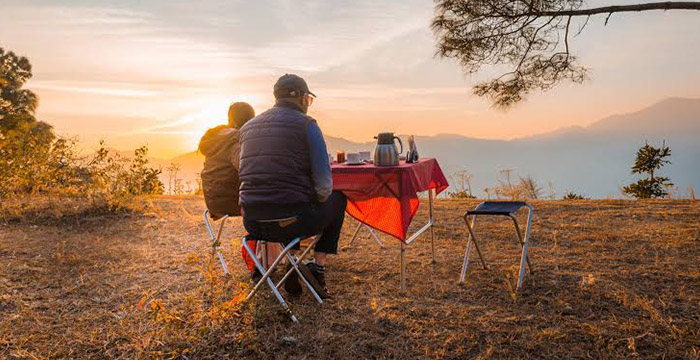 Baal mithai: the khoya made burfi that is topped with white colored sugar balls is too delicious and a must try when you are in the queen of hills.
Best time to visit Mussoorie
With misty mornings and evenings, bright sun and clear sky, Mussoorie retains a cool and pleasant climate throughout the year. During the months of January and February, it snows extensively here. Snow begins to melt in March and the weather with clear sunny skies is pleasant from April to June. The weather becomes dark during the moonsoon, and it can rain for days to come; often enough to trigger even landslides and block roads.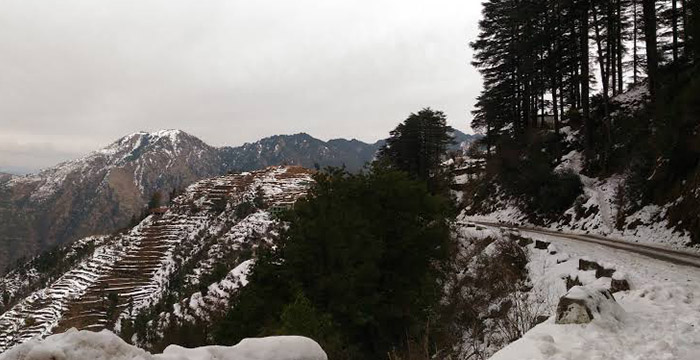 Monsoon leaves a lot of greenery behind by September. Throughout October, fall comes and gives orange-ish looks throughout the valleys. By the end of October, winter starts to arrive again and temperatures will fall again in the following months of November and December.
Mussoorie is an amazing destination in Uttarakhand, it's one of the best destinations in Uttarakhand and a lot of travelers visit every year from all over India. We are specialized in luxury taxis and provide safe, neat & clean taxis at a very reasonable price. Economical and Luxury tempo-travellers on Rent from Delhi to Mussoorie.
Delhi to Mussoorie tempo-travellers rental price
Delhi to Mussoorie tempo-travellers on Rent as on 04-12-23: Please find below the available cabs from Delhi to Mussoorie, select the best taxi option for you for your travel.
| Car | Price/Km | Car Type | Min km/per day | Route | Min Cost/day | Max Passenger |
| --- | --- | --- | --- | --- | --- | --- |
| 9 Seater Tempo Traveller Hire Gurgaon | 18 | Tempo Traveller | 250 | Delhi to Mussoorie | 4,500 | 9 |
| 12 Seater Tempo Traveller in Gurgaon | 22 | Tempo Traveller | 250 | Delhi to Mussoorie | 5,500 | 12 |
| 14 Seater Tempo Traveller in Gurgaon | 23 | Tempo Traveller | 250 | Delhi to Mussoorie | 5,750 | 14 |
| 16 Seater Tempo Traveller in Gurgaon | 23 | Tempo Traveller | 250 | Delhi to Mussoorie | 5,750 | 16 |
| 20 Seater Tempo Traveller in Gurgaon | 25 | Tempo Traveller | 250 | Delhi to Mussoorie | 6,250 | 20 |
| 26 Seater Tempo Traveller in Gurgaon | 30 | Tempo Traveller | 250 | Delhi to Mussoorie | 7,500 | 25 |
Cab from Delhi to Mussoorie price
We have our own fleet of luxury cabs, we provide luxury cabs from Delhi to Mussoorie during all seasons.
For best & safe cabs for Mussoorie, please call us now on 9811046889 or book online.
We offer Best price for cabs for travelling to Mussoorie, and provides best cab services in Delhi.
Hire now the best cab for your travel from Delhi to Mussoorie at best price.
Fascinating Things You Should Know About Mussoorie
Mussoorie is one of the most famous city in the states of Uttarakhand. As per provisional reports of Census India, population of Mussoorie in 2011 was 30118. Average literacy rate in Mussoorie as per census 2011 is 78.82%. It has an average altitude of 2005 meters. Mussoorie has a sex ratio of 812 females for every 1000 males.
The best places to visit in Mussoorie are Kempty Falls, Lal Tibba, Happy Valley, Camel's Back Road, Gun Hill, Mussoorie Lake, Christ Church.
More About Mussoorie (Uttarakhand)
Uttarakhand is one of the best tourist places in India. Dehradun is the capital of Uttarakhand and the largest city of Uttarakhand is Dehradun. Uttarakhand was established on 09-Nov-00. It is covering an area of 53483 square kilometers. The total population of Uttarakhand is 1.14 Crores as per the reports of Census India 2011. The sex ratio of Uttarakhand is 963 females per 1000 males with the average literacy rate of 79%. The Chief Minister of Uttarakhand is Pushkar Singh Dhami. And Lt. Gen. Gurmit Singh is serving the state as the Governor.
Uttarakhand is among the tourist places with lots of temples & historical places. The best time to visit in Uttarakhand is through March-June. During this time, the average temperature ranges between 20 - 35 C.
In the state of Uttarakhand, the delicious foods you must try are Jhangora ki Kheer, Til ki Chutney, Aalo Tamatar ka Jhol, Bhatt ki Churdkani, Bhaang ki Chutney and Chainsoo..
Things You Sholud Know About Mussoorie (Uttarakhand)
| | | |
| --- | --- | --- |
| 1. | Place To Visit In Mussoorie | Kempty Falls, Lal Tibba, Happy Valley, Camel's Back Road, Gun Hill, Mussoorie Lake, Christ Church |
| 2. | Mussoorie Population | 30118 |
| 3. | Mussoorie Sex Ratio | 812 Females Per 1000 Males |
| 4. | Mussoorie Literacy Rate | 78.82% |
| 5. | Elevation | 2005 meters. |
| 6. | State Name | Uttarakhand |
| 7. | Uttarakhand Capital | Dehradun |
| 8. | Total Area of Uttarakhand | 53483 SQ. KM. |
| 9. | Official Language of Uttarakhand | hindi |
| 10. | Total Population of Uttarakhand | 1.14 Crores (According to the census of 2011) |
| 11. | Current Chief Minister of Uttarakhand | Pushkar Singh Dhami |
| 12. | Current Governor of Uttarakhand | Lt. Gen. Gurmit Singh |
| 13. | Sex Ratio of Uttarakhand | 963 females per 1000 males |
| 14. | State Code | UT |
| 15. | Largest City in Uttarakhand | Dehradun |
| 16. | Famous Foods of Uttarakhand | Jhangora ki Kheer, Til ki Chutney, Aalo Tamatar ka Jhol, Bhatt ki Churdkani, Bhaang ki Chutney and Chainsoo. |
| 17. | Best Time To Visit in Uttarakhand | March-June |
| 18. | Temperature During March-June | 20 - 35 C |