Bharatpur, in the Indian state of Rajasthan, is a region once considered as unbeatable or impregnable. Located in the Braj region, it is divided into 50 wards and has an average elevation of 600 ft. due to which it is also known by names such as "Lohagarh" and "Eastern Gateway to Rajasthan." It is a must for all travelers to explore the beauty of Bharatpur while in Rajasthan.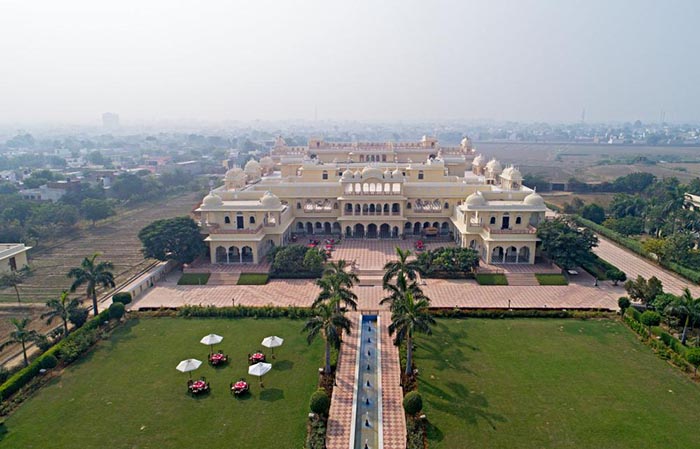 Plan a trip to Bharatpur with travelvore and get exclusive deals and discounts. Not only this but travelvore also provides well trained and professional drivers who will guide you in your tour and will give full value for money. Travelvore keeps customer satisfaction as their priority and loves to get back feedbacks for any improvement. Book cabs according to your preference varying from small size groups to complete family trips.
Places to visit in Bharatpur
Keoladeo national park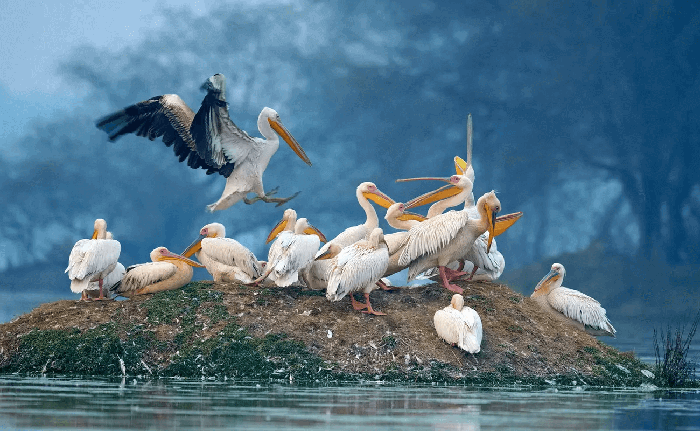 Keoladeo National Park, also known as Keoladeo Ghana National Park or Bharatpur Bird Sanctuary, is popular for avifauna and has a large population of birds, especially in winter. Declared a protected sanctuary in 1971, it is a man-made wetland which is also one of India's national parks.
Bharatpur museum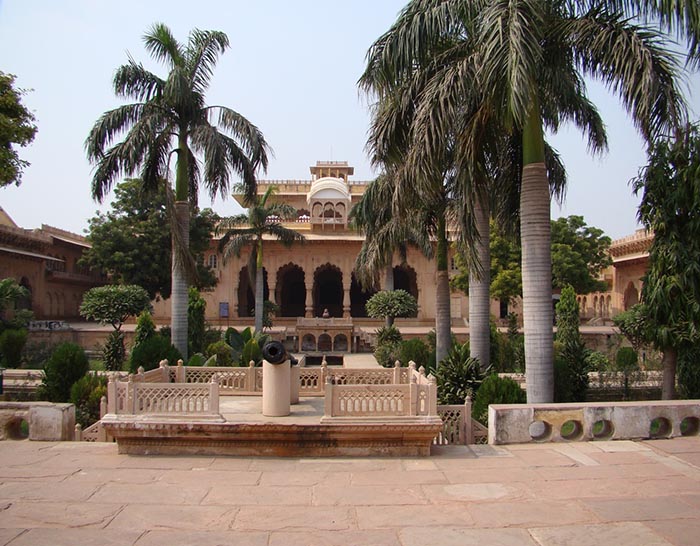 One of Bharatpur's most famous places to visit is the Bharatpur Palace, an imposing building mixing architectural styles of both Mughal and Rajput. The flooring design is rich and the walls are all around lined, making it look even more sexy.
Banke Bihari Temple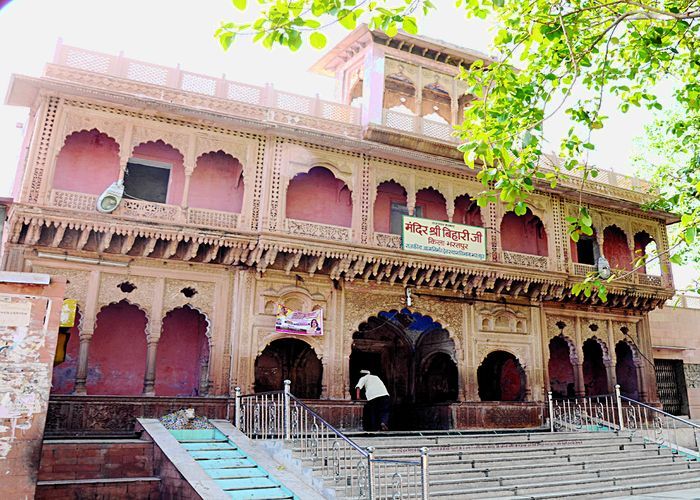 It was built in Bharatpur during the Mughal rule and is a majestic temple within the Lohagarh Fort. It's a beautiful resurrection place with the calming gongs reverberating inside the building, quiet and happy. Being a vital part of sightseeing in Bharatpur, it definitely produces a serene and auspicious environment.
Local food of Bharatpur
Kachori subzi
Kachori Sabzi is Bharatpur's most popular dish for breakfast. Kachoris-Badi and Choti Kachori are two different types. Although Badi Kachori is packed with a spicy blend of Dal Ki Pithi lentils, Choti Kachori is loaded with a spicy mashed potato combination.
Rabri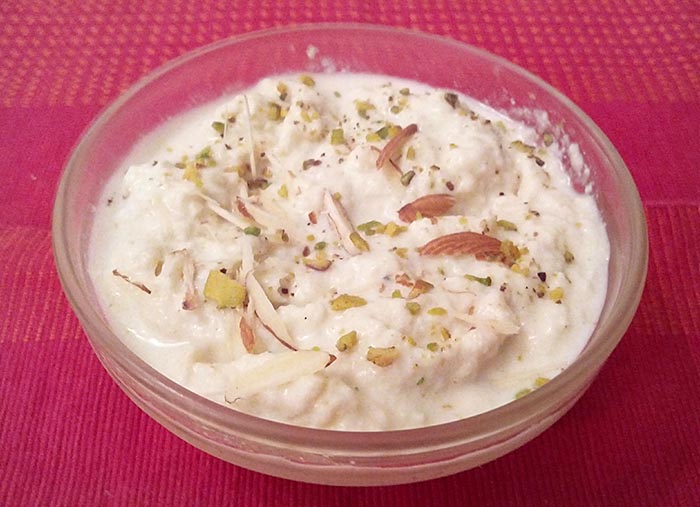 Loads of sweets made from milk or milk products are to be found in this area. Nevertheless, owing to its diversity of taste and texture, we decided to mention Rabri. This is a basic sweet dish made with cardamom, nuts and raisins filled with thickened condensed milk.
Markets of Bharatpur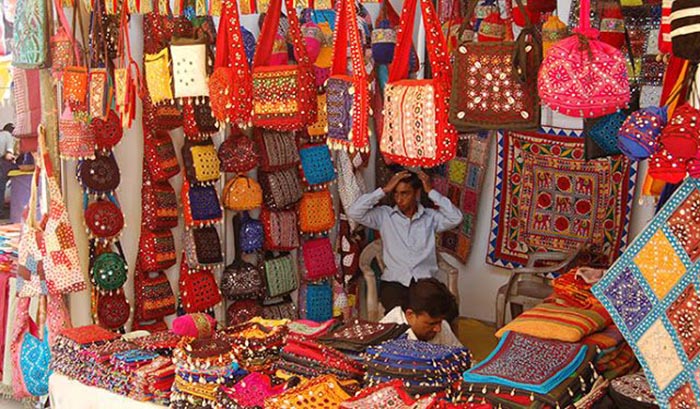 While Bharatpur is renowned for its national park, to satiate the shopaholic in you, there are numerous shops around the area.
Intricately carved jewelry of precious and semi-precious stones, handicrafts, marble carvings, brass work, antiques and Jaipur textiles are popular items.
The colorful handlooms of Jaipur, particularly saree and suit bandhej fabrics, are so appealing that you can't help but buy a few sets.
Bharatpur is an amazing destination in Rajasthan, it's one of the best destinations in Rajasthan and a lot of travelers visit every year from all over India. We are specialized in luxury taxis and provide safe, neat & clean taxis at a very reasonable price. Economical and Luxury tempo-travellers on Rent from Delhi to Bharatpur.
Delhi to Bharatpur tempo-travellers rental price
Delhi to Bharatpur tempo-travellers on Rent as on 21-03-23: Please find below the available cabs from Delhi to Bharatpur, select the best taxi option for you for your travel.
| Car | Price/Km | Car Type | Min km/per day | Route | Min Cost/day | Max Passenger |
| --- | --- | --- | --- | --- | --- | --- |
| 9 Seater Tempo Traveller Hire Gurgaon | 18 | Tempo Traveller | 250 | Delhi to Bharatpur | 4,500 | 9 |
| 12 Seater Tempo Traveller in Gurgaon | 22 | Tempo Traveller | 250 | Delhi to Bharatpur | 5,500 | 12 |
| 14 Seater Tempo Traveller in Gurgaon | 23 | Tempo Traveller | 250 | Delhi to Bharatpur | 5,750 | 14 |
| 16 Seater Tempo Traveller in Gurgaon | 23 | Tempo Traveller | 250 | Delhi to Bharatpur | 5,750 | 16 |
| 20 Seater Tempo Traveller in Gurgaon | 25 | Tempo Traveller | 250 | Delhi to Bharatpur | 6,250 | 20 |
| 26 Seater Tempo Traveller in Gurgaon | 30 | Tempo Traveller | 250 | Delhi to Bharatpur | 7,500 | 25 |
Cab from Delhi to Bharatpur price
We have our own fleet of luxury cabs, we provide luxury cabs from Delhi to Bharatpur during all seasons.
For best & safe cabs for Bharatpur, please call us now on 9811046889 or book online.
We offer Best price for cabs for travelling to Bharatpur, and provides best cab services in Delhi.
Hire now the best cab for your travel from Delhi to Bharatpur at best price.
Fascinating Things You Should Know About Bharatpur
Bharatpur is one of the most famous city in the states of Rajasthan. As per provisional reports of Census India, population of Bharatpur in 2011 was 2550000. Average literacy rate in Bharatpur as per census 2011 is 66.11%. It has an average altitude of 183 meters. Bharatpur has a sex ratio of 880 females for every 1000 males.
The best places to visit in Bharatpur are Keoladeo Ghana National Park, Lohagarh Fort, Bankey Bihari Temple, Bharatpur Palace And Museum, Ganga Mandir, Laxman Mandir, Government Museum Bharatpur, Deeg.
More About Bharatpur (Rajasthan)
Rajasthan is one of the best tourist places in India. Jaipur is the capital of Rajasthan and the largest city of Rajasthan is Jaipur. Rajasthan was established on 26-Jan-50. It is covering an area of 342269 square kilometers. The total population of Rajasthan is 7.92 Crores as per the reports of Census India 2011. The sex ratio of Rajasthan is 928 females per 1000 males with the average literacy rate of 66%. The Chief Minister of Rajasthan is Ashok Gehlot. And Kalraj Mishra is serving the state as the Governor.
Rajasthan is among the tourist places with lots of temples & historical places. The best time to visit in Rajasthan is through November to February. During this time, the average temperature ranges between 11 - 27 C.
In the state of Rajasthan, the delicious foods you must try are Daal Bati Churma, Gatte ki Sabzi, Pyazz Kachori, Papad ki Sabzi, Ghevar, Gond ke Laddu, Kesar Murg and Laapsi.
Things You Sholud Know About Bharatpur (Rajasthan)
| | | |
| --- | --- | --- |
| 1. | Place To Visit In Bharatpur | Keoladeo Ghana National Park, Lohagarh Fort, Bankey Bihari Temple, Bharatpur Palace And Museum, Ganga Mandir, Laxman Mandir, Government Museum Bharatpur, Deeg |
| 2. | Bharatpur Population | 2550000 |
| 3. | Bharatpur Sex Ratio | 880 Females Per 1000 Males |
| 4. | Bharatpur Literacy Rate | 66.11% |
| 5. | Elevation | 183 meters. |
| 6. | State Name | Rajasthan |
| 7. | Rajasthan Capital | Jaipur |
| 8. | Total Area of Rajasthan | 342269 SQ. KM. |
| 9. | Official Language of Rajasthan | hindi |
| 10. | Total Population of Rajasthan | 7.92 Crores (According to the census of 2011) |
| 11. | Current Chief Minister of Rajasthan | Ashok Gehlot |
| 12. | Current Governor of Rajasthan | Kalraj Mishra |
| 13. | Sex Ratio of Rajasthan | 928 females per 1000 males |
| 14. | State Code | RJ |
| 15. | Largest City in Rajasthan | Jaipur |
| 16. | Famous Foods of Rajasthan | Daal Bati Churma, Gatte ki Sabzi, Pyazz Kachori, Papad ki Sabzi, Ghevar, Gond ke Laddu, Kesar Murg and Laapsi |
| 17. | Best Time To Visit in Rajasthan | November to February |
| 18. | Temperature During November to February | 11 - 27 C |